INTEGRAL RICE WITH QUINUA SPRING
Serves as a complement of dishes for 4 people
INGREDIENTS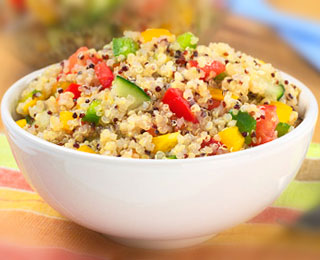 1 cup Karavansay® Whole Wheat Rice

  1 tablespoon Ghee Karavansay® Clarified Butter

  3 cups water

  Salt to taste

  1 clove garlic finely chopped

  ½ finely chopped white onion

  ½ cup finely chopped parsley

  1 finely chopped red paprika

  ½ cup of tender corn

  ¼ cup finely chopped green beans or finely chopped green beans.

  Salt with sesame (Gomasio) Karavansay® to taste (optional)
PREPARATION
In a saucepan, sauté the onion in ½ tablespoon of Ghee until it becomes transparent, add the cup of Brown Rice with Quinoa Karavansay® and sauté it for 3 to 5 minutes without stopping stirring, add the 3 cups of water to the fire Medium-high. When the water begins to boil, add the salt and finely chopped garlic. When the water has dried, cover the pot and lower the fire, let cook for about 20 minutes. Open stir the rice, taste and let stand for 5 minutes.
After the Rice with Quinoa Karavansay® is ready, heat hot to a Bowl and mix all the finely chopped vegetables (paprika, parsley, corn and beans or vainitas) and serve by sprinkling with Karavansay® Sesame Salt.
GARBANZE FLOUR PANCAKES
Makes 4 crepes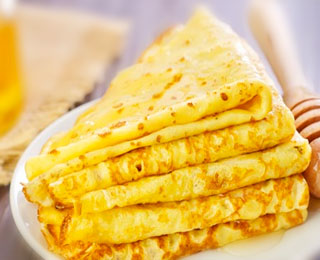 INGREDIENTS
2 eggs

4 tablespoons Karavansay® Flour

300 ml. (Approx.) Of whole milk, skim or of your preference.

Salt, non-caloric sweetener or sugar (according to taste: sweet or salt).

Optional: 1 Tablespoon Chia Seed or Ground Flaxseed @karavansay




To provide fiber.
PREPARATION
In a bowl, beat the eggs, milk, then add the Karavansay® Flour, adding the salt / sugar or sweetener, until a light and homogeneous dough is obtained.
In a pre-greased nonstick skillet, place a portion of the mixture quickly spread throughout the base, lower the fire a little, curd the mixture and when it starts to peel off the edges, turn with a spatula silicone or wood , Cook it on the other side, until it starts to brown and ready. It can be filled with salt: with mushrooms to the ajilllo or with ham and cheese or also of sweet with the following options: chocolate syrup, milk caramel, honey of bees, syrup of agave or honey of maple and / or fruits. This filling can be done in the same pan with the fire off, to keep the crepe warm. This preparation is ideal for breakfast or light meals.
Note: This same recipe can also be prepared with Whole Wheat Flour or Quinoa Flour @ karavansay.
QUINOA SOUP
Preparation for 4 servings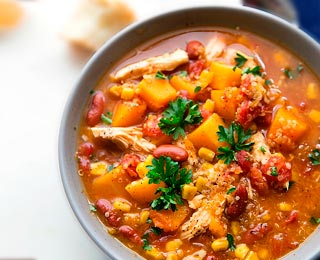 INGREDIENTS
 ½ cup of Quinoa in seed Karavansay® (well washed)

1 cup potato diced

1 cup diced ahuyama

1 liter of chicken broth or meat

1 cup chopped leek onion

½ cup freshly cut sweet pepper

½ cup chopped celery

String Bean

Bean

Salt, pepper, garlic and cilantro to taste
PREPARATION
Wash the quinoa. In a pot of background put to cook the liter of broth or water, the potato, the ahuyama, the bean and the beans are placed.
Let it boil for about 15 minutes, approximately, put the quinoa.
Separate make a sauce (onion leek, ají topito, celery, the garlic party, with salt and pepper to taste). This sauce is applied to the soup and another cup of hot water, let it boil for about 15 min.
Served with chopped cilantro from above. This soup can be made with beef rib or chicken.
LINSEED MUFFINS
Preparation for 12 servings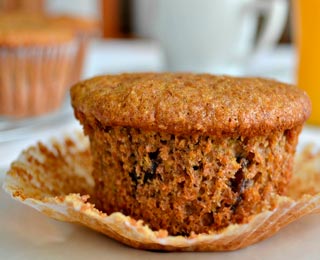 INGREDIENTS
¾ Cup of Karavansay® brown rice flour

¾ Cup of Karavansay® chickpea flour

½ Cup of ground flax Karavansay®

½ cup of organic sugar

¾ Teaspoon of baking soda

½ teaspoon ground cinnamon

¼ teaspoon nutmeg

pinch of salt

½ cup of raisins

2 Organic eggs

¼ cup vegetable oil

½ cup apple compote

Cup of natural unsweetened yogurt

Teaspoon of fruit vinegar
PREPARATION
Preheat the oven to 180 ° C (350 ° F). Prepare a mold of 12 muffins with waxed paper capacities.
In a bowl mix the flour of rice and chickpea, ground flaxseed, sugar, baking soda, cinnamon, nutmeg, salt and raisins.
In a second bowl mix the eggs, oil, applesauce yogurt and teaspoon of vinegar. Add the mixture of dry ingredients, in 3 stages, to the mixture of moist ingredients and carefully stir until completely integrated.
Fill ¾ of each capacillo with the help of a spoon or a spoon to serve ice cream. Bake for 25 to 30 minutes or until golden brown and a skewer stick comes out clean. Remove from oven and allow to cool on a rack for 5 minutes.
AMARANTO AND CHICKEN CAKE
Preparation for 8 servings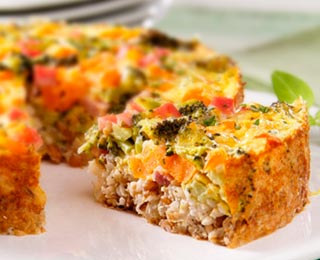 INGREDIENTS
1 tablespoon olive oil plus extra oil to grease

1 cup of rolled mushrooms

2 cups cooked chicken breast and chopped into pieces

Broth of chicken baking (if necessary)

2 eggs

¾ Cup of Karavansay® quinoa flakes

2 cups of pre-cooked Karavansay® amaranth

1 cup of frozen peas

½ cup chopped parsley

Salt and pepper

10 Tomatoes dehydrated in oil drained and chopped

1 chopped red onion
PREPARATION
Preheat the oven to 180C (350F) and grease an 8 inch (20 cm) pan.
In a frying pan heat the oil over medium-high heat, add the onion, mushrooms, salt and pepper, cook occasionally stirring, until the mushrooms brown.
Meanwhile, in a processor place the chicken and the flakes, process until achieving a crumb texture.
In a bowl, place chicken crumbs with flakes, mushrooms with onion, amaranth, peas, parsley, thyme, tomatoes, lightly beaten eggs and mix ingredients (if the mixture is dry, add slowly a few tablespoons of broth of the cooking of the breast until obtaining a mixture moderately humid).
Verify flavors, transfer the mixture to the mold and bake for 25 to 30 minutes or until a knife comes out clean.
Remove from the oven, let cool for 10 to 15 minutes on a rack, unmold, chop and serve.
QUINOA PANCAKES
Preparation for 8 servings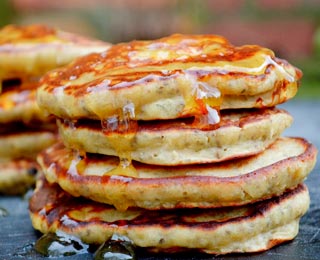 INGREDIENTS
1/2 cup Karavansay® quinoa flour

1/2 cup of coconut flour or otherwise wheat flour

1 1/4 cup of milk of your choice (almonds, soy or whole)

4 egg whites

2 teaspoons of sugar

1 teaspoon vanilla extract

1/8 teaspoon cinnamon

1/8 teaspoon baking powder

Pinch of salt
 PREPARATION
In a bowl mix all the ingredients except the egg whites and mix until smooth.
In another bowl, beat the egg whites until soft peaks form. As soon as the whites have reached this stage, incorporate them to the rest of the ingredients with enveloping motions.
The mixture should be of a soft consistency but not very liquid, if it is necessary to add a little more milk.
Heat a lightly oiled skillet over medium-high heat. Pour the dough onto the plate with a small spoon. Let it cook on one side until bubbles form and burst.
Brown the other side and serve warm with maple or agave honey.